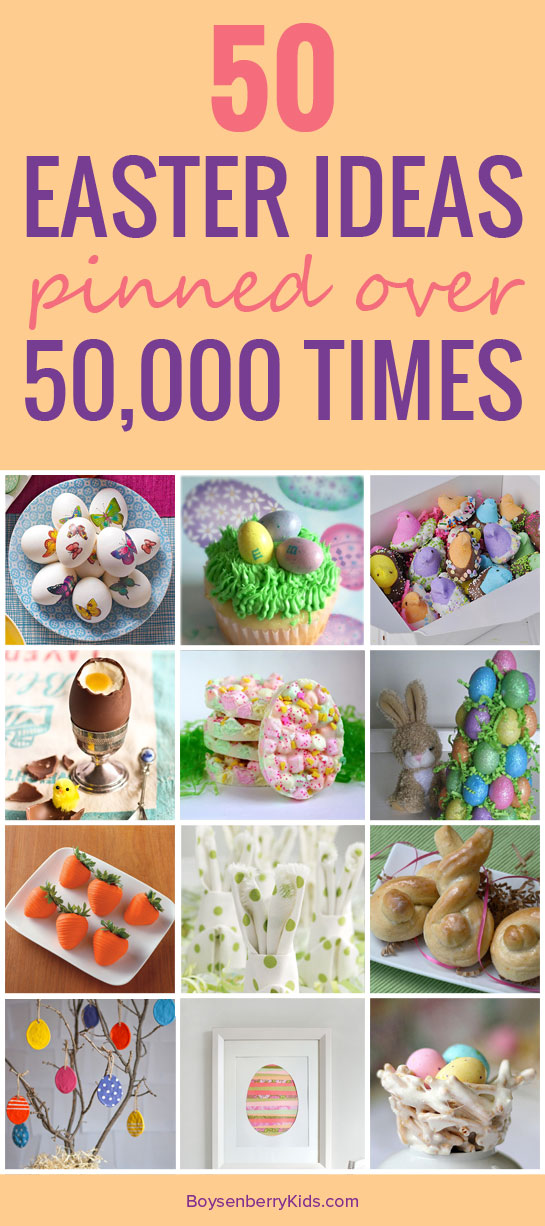 We searched Pinterest long and hard for the most pinned Easter content pieces. We looked at 1,487 URLs to come up with 50 that have been pinned more than 50,000 times as of April 12, 2014.
We found the number of pins by pasting the list of URL's into this tool: Social Tally
I won't bore you with how we came up with all the URL's because it was mind numbing:) But it is possible that a few big hitters squeaked by without our notice, so if you know of any, let us know in the comments below.
Fun Facts From the Data:
Only 5 pieces of content have more than 200k pins
13 more have crested the 100k mark
1 flickr image made the list
1 ecommerce product page made the list – #4 on the list (now that's some good marketing on their part, or was it luck?)
3 blogs made the list twice – pizzazzerie.com, athriftymom.com, and iheartnaptime.net
By the time Easter 2014 is over, our guess is at least 16 more articles will make this list
---
While you're here, let us know what your kids think of our kids songs videos: http://www.youtube.com/user/boysenberrykids
---
| Rank | URL | Pin Count as of 4/12/14 | Pin Count as of 4/16/14 |
| --- | --- | --- | --- |
| 1 | http://www.bhg.com/holidays/easter/eggs/pretty-no-dye-easter-eggs/?page=2 | 409,100 | 410,980 |
| 2 | http://easter2014.org/easter-crafts/ | 302,850 | 351,842 |
| 3 | http://www.squidoo.com/easter-treats-goodies-mms | 279,385 | 285,699 |
| 4 | http://www.harryanddavid.com/h/holiday-gifts-occasions/easter-basket-gifts/27183?cm_mmc=SocialMedia-_-Pinterest-_-Pin-_-easter | 248,808 | 252,025 |
| 5 | http://www.sweetfloweret.com/2011/03/easter-egg-tree-tutorial.html | 235,648 | 238,209 |
| 6 | http://faithfulprovisions.com/2013/03/04/99-easter-basket-ideas-for-boys/ | 174,682 | 179,030 |
| 7 | http://www.growingajeweledrose.com/2013/02/easter-egg-hunt.html | 157,910 | 159,023 |
| 8 | http://www.yourhomebasedmom.com/chocolate-covered-peep-bouquet-and-peep-smores/ | 153,954 | 156,367 |
| 9 | http://www.raspberricupcakes.com/2012/04/cheesecake-filled-chocolate-easter-eggs.html | 151,410 | 153,791 |
| 10 | http://dixiedelights.blogspot.com/2012/04/darling-easter-desserts.html | 136,196 | 138,085 |
| 11 | http://www.butterwithasideofbread.com/2013/02/easter-marshmallow-bark.html | 128,427 | 133,364 |
| 12 | http://www.sasinteriors.net/2014/03/creating-colorful-easter-eggs-with-melted-crayons/ | 126,738 | 147,881 |
| 13 | http://www.budgetgourmetmom.com/orange-bunny-rolls-kids-can-cook-toosday/ | 123,071 | 124,904 |
| 14 | http://pizzazzerie.com/desserts-food-2/cadbury-egg-easter-cupcakes/ | 109,609 | 118,257 |
| 15 | http://realmomkitchen.com/10823/easter-deviled-eggs/ | 107,735 | 108,951 |
| 16 | http://www.tasteofhome.com/Recipes/Holiday—Celebration-Recipes/Centerpieces/How-to-Fold-a-Bunny-Napkin | 107,391 | 113,574 |
| 17 | http://www.recipebyphoto.com/easter-chick-cupcakes/ | 103,906 | 104,747 |
| 18 | http://athriftymom.com/swirl-easter-eggs-how-to-dye-easter-eggs-with-shaving-cream/ | 99,400 | 118,257 |
| 19 | http://www.minted.com/julep/2013/02/26/paper-strip-easter-egg-art/ | 95,987 | 98,482 |
| 20 | http://www.thehandmadehome.net/2012/04/25-last-minute-ideas-for-easter/ | 94,315 | 94,602 |
| 21 | http://www.designmom.com/2013/03/diy-salt-dough-eggs/ | 93,624 | 94,723 |
| 22 | http://jennysteffens.blogspot.com/2013/03/easter-bunny-cake-continuing-grannys.html | 93,451 | 97,467 |
| 23 | http://www.brit.co/40-easter-eggs/ | 82,252 | 85,482 |
| 24 | http://thefrugalgirls.com/easy-easter-recipes | 78,198 | 85,706 |
| 25 | http://www.iheartnaptime.net/15-yummy-easter-desserts/ | 76,525 | 82,508 |
| 26 | http://www.fashiondivadesign.com/56-inspirational-craft-ideas-for-easter/ | 76,210 | 81,183 |
| 27 | http://athriftymom.com/minions-eggs-how-to-make-minions-eggs-for-easter-minions/ | 75,200 | 78,563 |
| 28 | http://twomenandalittlefarm.blogspot.com/2011/04/dyeing-easter-eggs-natural-way.html | 72,873 | 73,791 |
| 29 | http://mom.me/fun/crafts/6513-easter-craft-craziness-part-1-sharpie-eggs/ | 72,560 | 74,447 |
| 30 | http://www.savvymom.ca/index.php/partysavvy/easter-party/4184/food | 72,457 | 77,914 |
| 31 | http://thecakeblog.com/2013/02/speckled-egg-cake.html | 71,167 | 74,616 |
| 32 | http://creativelychristy.blogspot.com/2013/03/45-non-candy-easter-treats-for-lil-kids.html | 69,486 | 71,950 |
| 33 | http://cindis.blogspot.com/2009/03/moms-do-some-grass-this-month.html | 68,270 | 68,463 |
| 34 | http://food.innerchildfun.com/2013/03/decorating-easter-eggs-with-kids.html | 66,199 | 71,551 |
| 35 | http://www.therecipecritic.com/2013/03/homemade-reeses-eggs.html | 65,923 | 66,481 |
| 36 | http://www.flickr.com/photos/bennysbakerycakes/4474977362/in/faves-59421962@N06/ | 65,813 | 70,056 |
| 37 | http://choosetothrive.blogspot.com/2011/04/rainbow-easter-eggs.html | 65,294 | 65,553 |
| 38 | http://www.iheartnaptime.net/50-easter-basket-ideas/ | 64,733 | 66,263 |
| 39 | http://www.inkatrinaskitchen.com/2012/03/cadbury-cream-cookie-cups.html | 61,878 | 62,607 |
| 40 | http://www.countryliving.com/crafts/projects/easter-fun-stuff-0406 | 61,476 | 63,931 |
| 41 | http://www.ourbestbites.com/2011/04/easter-carrot-napkin-bundles/ | 60,664 | 61,070 |
| 42 | http://gratefulprayerthankfulheart.blogspot.com/2011/04/easter-springtime-bird-nests.html | 59,951 | 60,533 |
| 43 | http://mywholefoodlife.com/2014/03/24/strawberry-creme-truffles/ | 57,879 | 61,234 |
| 44 | http://urbancomfort.typepad.com/urban_nest/2012/04/coffee-filter-flowers-and-carrots.html | 56,534 | 57,482 |
| 45 | http://pizzazzerie.com/holidays/recipe-bunny-tail-treats/ | 55,355 | 56,372 |
| 46 | http://www.momtastic.com/diy/175671-20-fresh-ways-to-decorate-easter-eggs | 53,525 | 54,057 |
| 47 | http://spoonful.com/crafts/20-diy-easter-decorations | 52,462 | 55,307 |
| 48 | http://sarahndipities.blogspot.com/2011/04/how-to-tuesday-fingerprint-bunnies-and.html | 52,305 | 54,715 |
| 49 | http://www.worthpinning.com/2013/03/easter-brunch-for-two.html | 51,125 | 53,882 |
| 50 | http://tatertotsandjello.com/2012/03/make-a-washi-tape-spring-egg-wreath.html | 50,406 | 50,740 |
New comers as of 4/16/14: